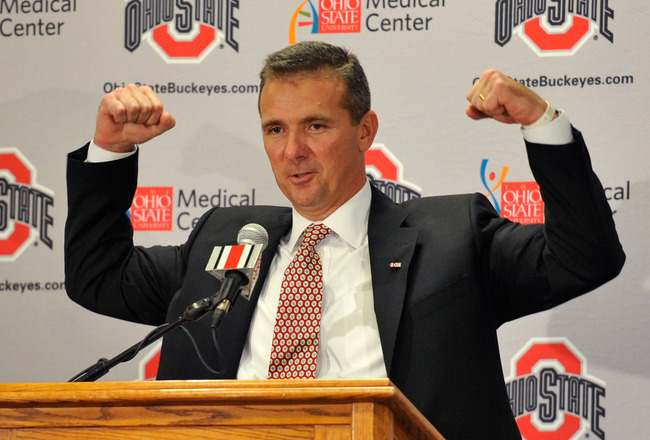 Who wants some?!
"You're pissed because we went after a committed guy? Guess what? We have 9 guys who better go do it again. Do it a little harder next time". Shots fired (back).
This is what Urban had to say at the Ohio High School Football Coaches Association Clinic this morning, first reported by
TheOZone
.net and I found it from @
LostLetterman
.
This is a response to Bielema and Dantonio's bitching after signing day where the Buckeyes landed the 3-6th best class (depending on who you ask) while taking
Se'Von Pittman
who was committed to Sparty and
Kyle Dodson
, a lineman from Cleveland who had committed to the Badgers in the summer.
Things are getting hot and heavy and Urban hasn't been in the B1G for 3 months. The two coaches who have had the best run in the last two years are not too happy with an SEC coach coming into the B1G and doing things the wrong way. The way that has led the SEC to win 6 straight national championships, beating the B1G (Ohio State) in the title game twice. Florida pounded, arguably, the best B1G team in the last 10 years ('06 Buckeyes) by 4 scores on the biggest stage.
You know who you don't hear bitching? Michigan and Penn State. They would have something to say about the Buckeyes "stealing" committed guys, but they haven't said anything. You would think that Hoke would maybe chirp in because he likes to talk and forget the State part of Ohio State, but he has stayed quiet. Michigan did finish with a Top 10 class themselves, however, I am sure he would have said something if he was pissed. He probably isn't because Michigan is a top class program on their way back, and they probably like the challenge. Penn State's coach, who is calling plays for the Pats in the Super Bowl, has not been quoted after Ohio State took 2 of their guys. Michigan and Penn State are big time programs and understand you have to do what you have to do to get your guys.

He was good. In the 90s.

Michigan State won a share of the B1G title in 2010 but didn't make it to the Rose Bowl and lost to Alabama by 40 in the Citrus Bowl after a season that marked the most wins in school history. Wisconsin made the Rose Bowl the last two years, losing both, to TCU and Oregon respectively. The Badgers were the lead dog in the B1G the entire year and seemed to be on the path to the national title after a dismantling of Nebraska when Gameday came to Madison. It was Wisconsin's first (and only) "huge" win where they were favored. All their other program-defining wins have been an upset in the Rose Bowl in the late '90s and wins over the higher ranked Buckeyes, Wolverines and Nittany Lions (usually at home). Their best players have been Ron Dayne and a QB that transferred for one year after playing at N.C. State.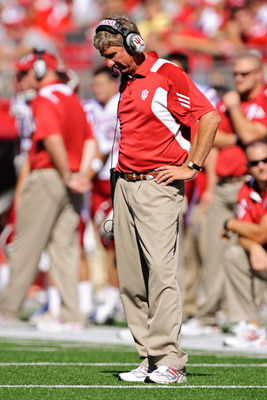 After Wisconsin put
83 on IU in 2010

The Badgers are upset Urban is doing things the wrong way. Here's a fun history fact: Wisconsin put 83 on Indiana in 2010. Also, after going for two after a passing touchdown to put his team up by more than 5 touchdowns in the 4th last year, Bielema responded that his card told him to go for two after he was asked why he would run up the score. It seems to me, on gameday, Wisconsin goes by the "if you don't like it, go ahead and stop it." They also seem to love to beat up on the bottom-feeders of the conference, but when they get some competition, they tend to come up short (see: 2011 at Ohio State).
Do you think Urban gives a shit what those guys think? The rest of the countries' elite programs laugh at the B1G. Sure, Bielima doesn't want to do things the "SEC way", however, their way works, and dominates. Get on the train or get run over. They are pissed because Urban knows what it takes to compete with the SEC and the country, not just the Leaders and Legends.
If you would have told me before Memorial Day that Tressel would be
fired
retired, TP would be gone, Boom and Posey would miss a majority of the games, Ohio State would end up with a bowl ban after a 6-7 season, hire Urban Meyer and bring in a top 5 recruiting class, I would have punched you in the dick.
Michigan is back (maybe, probably). Wisconsin is on top. Michigan State is second. Nebraska is lurking. I hope they enjoyed Ohio State's one transition year. I'll see you in Indy for the B1G Championship Games starting in 2013.

As Bo Ryan would say,
"JUST DEAL WITH IT"

Update:
Barry Alvarez has a response (and it sides with Urb) that he shared with ESPN's Joe Schad:
"Recruiting is recruiting until they sign. If we had somebody who changed their mind and came to us, that's OK. Urban was very aggressive but there is no pact within the conference not to continue to recruit. Open season until they sign."
Geno had his take as well:
"I am disappointed that negative references have been made about our football coaches, and particularly head coach Urban Meyer regarding recruiting. In our league appropriate protocol, if you have concerns, is to share those concerns with your Athletic Director (AD). Then your AD will make the determination on the appropriate communication from that point forward. The ADs in our league are professionals and communicate with each other extremely well. Urban Meyer and his staff have had a compliance conscience since they have arrived."
There you have it. Once again, suck it ya big baby. JUST BIEL WITH IT. Next up, after Bert runs to the principals office, Jim Delany's take...Stay tuned for more BIG TEN IS BURNING!!!!