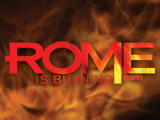 Today marks the end of Rome's run on ESPN. His last show of Jim Rome is Burning is airing today, 4:30 on ESPN2. He is leaving to join the CBS Sports Network for his daily show "that will be a little different" than his current show, with the first show airing April 3rd.
I have probably watched around 80% of JRIB, starting my sophomore year in college when it debuted in the fall/winter of 2003-04 at night. I would come home from pick up games at JO South or Larkins (now the RPAC) to catch it. Then he took a hiatus. Then came DVR and it has been on my watch-list ever since.
It's just another show of mine that I enjoyed watching that is going away, with no real conclusion. Other shows that didn't "end" that were in my list were:
American Dreams, NBC (2002-2004, 3 seasons) - cancelled
Chappelle's Show, Comedy Central (2002-2005, 2+ seasons) - host, um, quit
Lights Out, FX (2010, 1 season) - cancelled
Rome leaves ESPN after his contract expires. He says there isn't any drama like some previous situations (see: Dan Patrick), but is joining a new family. The ESPN Book guy reported that when ESPN decided to change their "happy hour" schedule and moved JRIB to ESPN2 off of ESPN, Rome found out by reading the script and on the top it said ESPN2. Not exactly how you want to find out you are changing stations.
At CBS, he will be featured in different sports, such as the NFL, NCAA Final Four and Tennis. He appeared on the CBS NFL pregame show before AFC Championship, so he will do more than he did at ESPN. Nothing is changing from his radio show, and for a short while, he will be able to focus more on his radio show instead of double-dipping every day. Mark Shapiro, who brought him back to ESPN, is behind his new shows at CBS and it seems to be a nice fit along with something different for Rome.
There are a lot of moments from the show, however here are a few of my favorites from JRIB that stick out off the top of my head:
Rome gets all messed up while doing his show live outside of the Super Bowl in Miami (2007)...the teleprompter is slow and he inserts periods in the middle of every sentence. Very hard to watch.
Rome's correspondence piece with Delonte West. Cavs, Delonte, doughnuts.
Final Burn: Annoying pick up basketball guy.
Final Burn: Fantasy Football guy
Final Burn: Modern Warfare 3/Call of Duty guy
I'm going to have a void on my DVR, which will hopefully get filled by Lebatard who is taking over his slot. Once Rome returns to CBS Sports Net, I'll pick it up again, and when he gets going with this monthly show "Rome" on Showtime in November, I'll be sure to check that as well. As for JRIB, I will miss you. He is out.
This move was first reported by The Big Lead.
Here
is the post.