The BCS Championship game will face 1 LSU against 2 Alabama in the Superdome January 9th. You may be familiar with this game. It was played earlier this year under TGOTC in Tuscaloosa as LSU beat the Crimson Tide in overtime, 9-6 after Alabama missed two field goals, had one blocked, and threw an interception at the goal line.
There are two ways of looking at this:
1. This is the system that puts the two best teams against each other for a national championship without having a playoff. The system combines the rank of the voters, strength of schedule and a couple of computer numbers. Without having a top 4 or top 8 playoff and have the teams decide it on the field, the system looks at each team's "body of work" along with who they have played and where they are ranked each week. Before this past weekend, there was little doubt that Alabama and LSU were the top 2 teams in the country for the whole year. They only way that would come into doubt would be if...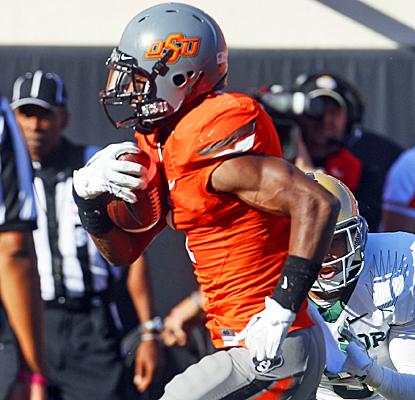 2. There is another team, with one loss, that has been impressive the entire year. I am looking at you, Oklahoma State. They beat their arch-rival Oklahoma (whom they had lost 8 straight to) 44-10 for their 11th win and the Big 12 title. They lost one game, like Alabama, and is ranked in the top 3, like Alabama. However, unlike Alabama, they won their conference and if they were in a division of that conference, they would have won that too. There is something to say about letting a team into the title game and they didn't even win their division of their conference.
No one is debating that LSU is there. They are undefeated and beat Oregon in Dallas, West Virginia on the road at night, Alabama on the road at night, Arkansas by 24 after they fell down by 14 and the SEC Championship by 32 after getting behind by 10. The Tigers may have had the best season since the 1995 Cornhuskers (look it up).
The debate comes with a team who has lost one game to LSU in overtime, or a team that lost to Iowa State after their women's basketball coach died in a plane crash. This is the system we live with. How would any other sport decide OSU vs. Bama? They would play and LSU would play the 4th ranked team (Oregon--REMATCH) and have the winners play. However, there is no playoff so you have to go to the computers. Alabama's lost is less then OSU's, and I am in favor that you have to win your own conference to get to the title game, but you cannot lose to Iowa State and play for a title. There is no right or wrong answer. One team lost to Iowa State but won their conference and put up 40 on everyone other than that loss. The other team dominated everyone, however they lost one game in overtime (at home) to the number one team, who was in their own division of their conference. There are no mathematical equations for that. I think it is fair to say, that if you live outside the area that succeeded from the Union, you do not want to see a rematch. OSU-LSU would be a great contrasting-style matchup. Hell, OSU-Bama to face LSU would be great. However, we live in the BCS and this is the way it goes. Bama's work over the year, along with their slim loss to LSU puts them over an OSU team that was ranked lower to start the season and had a 2OT loss to ISU.
Do I want to watch a rematch for the title or do I want OSU-LSU? I honestly think Bama is better than OSU so I am ok with a rematch. You cannot lose to Iowa State and play for a title this year. This system is f*cked and until there is a playoff, it is what it is. The only winners are LSU, Alabama, and the rest of the SEC
rednecks
fanbase. I just hope it's more than a 3-2 shootout on the pitch. Go ahead and score some touchdowns, fellas.