This week's award goes to the innovator.
Video taken by me from the tube. "The Most Exciting 25 Seconds in Football"
Look at them welcoming the #21 ranked team into town. Grab a cup of coffee and they are down 14-0. The D gave up long touchdowns on a 4th down and a misdirection run. Then Taj and Sammie get rollin' and over power the defending champs.
As I was waiting for Clemson to let Auburn back in, the Oranges didn't let up and ended the other Tigers' winning streak. When they came out in all orange you knew they knew it was a big game against a team that has a horrible defense and have a few players but are not going to contend for their division, much less repeat for the BCS title.
Good Clemson showed up and what pushed them ahead of Michigan State (int at the goalline) for the award is that next week, Florida State comes in (formerly the
Bowden Bowl
,
good times
). There is no way the Tigers can play "up" for two games. The next week after a big win = Bad Clemson. Stay tuned. ABC 3:30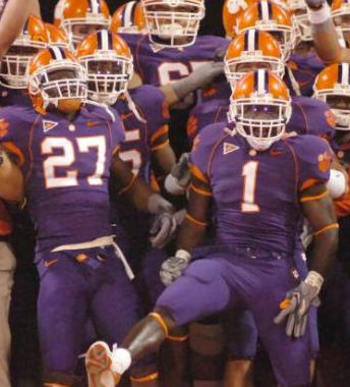 Uniform guess...they break out purple