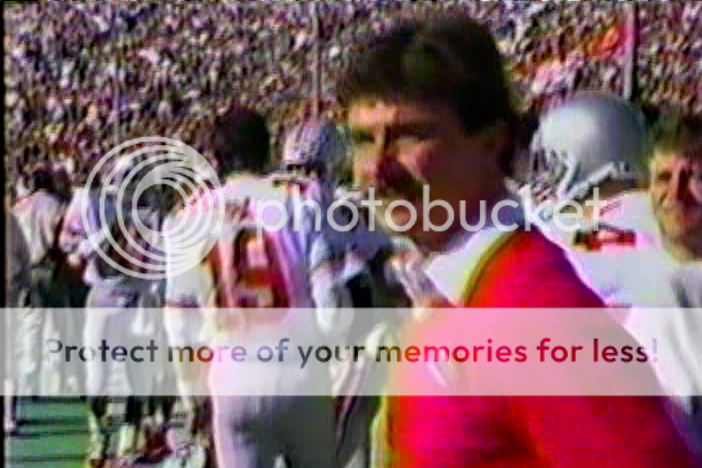 Finally, Urban Meyer HAS COME BACK...TO OHIO STATE. Ok, not really. He did coach here in the late '80s with a nice 'stachio under Earle Bruce as a grad assistant. You may know the Urb as the coach with the new high speed motion spread offense attack with Josh Harris at Bowling Green, Alex Smith at Utah and Chris Leak and ole' what's his face down in Gainsville.
The moment he took the Gators job after Zook went Zook, there was always this point: while he may never leave Florida, he has two outs in his contract; Notre Dame and Ohio State. That was in 2005 as Tressel was in his 5th year guiding the Buckeyes to their first of
6
5 straight Big Ten Championships and a Fiesta Bowl win over Notre Dame.
Urban and the Gators then met Tressel and co. the following year and handed the Buckeyes a 41-14 defeat for the National Championship after one of the best years in Buckeye football history. The Gators went on to defeat Sam Bradford and Oklahoma for the '08 title, giving Meyer two championships in 3 years and 2 in 4 years at Florida.
The next year, the Gators lost to the eventual national champs Alabama in the SEC Championship game and a few days later, Urban retired due to health concerns. That lasted less than a week but then he retired for "good" after the 2010 season, this time due to family time. He spent this past year working with Dave Patch and Chris Spielman on the ESPN noon Big Ten games.
-Ohio State 2011-
After the mess in the winter and spring that sent forced Tressel's
resignation
retirement, Luke Fickel was named interim head coach and right before the season, the interim tag was lifted. The Bucks started out ranked 15th but struggled to a 6-6 season with three straight losses at the end to Purdue, Penn State and the for the first time since 2003, a loss to Michigan.
The other low lights for the Bucks: a 27-21 win vs. Toledo in week 2 as the Rockts were at the 20 yard line as time ran out. A 24-6 flop at The U a week later and the worst offensive output since 1982 as the Bucks lost to Michigan State 10-7 at the Horseshoe. That was followed up by a 34-27 loss at Nebraska after they took a 27-6 lead in the second quarter. They also slept walked through a 34-20 win over IU.
The lone highlight: a 33-29 win against Wisconsin on a last minute 40 yard touchdown pass from Braxton to Devin Smith. However, the season was summed up when Philly Brown said on that play, the receivers didn't know the play and they just ran around like they were playing on Thanksgiving. The absence of a passing game was a theme throughout the season and was on full display during the win at Illinois. The Buckeyes completed one pass, for a touchdown, on four attempts, as they beat the Illini 17-7.
After the Illinois and Indiana wins, the Buckeyes actually held their own destiny for the Leaders Championship. That quickly was put to an end after they lost at Purdue the next week. After another 3+ quarters sleepwalk, Miller had to throw a broken-play touchdown pass (after eluding 2 defenders) to Jordan Hall (who was blocking on the play) on a 4th and goal to get within one. The PAT was blocked and the Boilers beat the Buckeyes for the second straight time in West Lafayette. For the final home game, the offense (again) was no where to be found and the defense was shredded the high-octane Penn State offense as the Bucks went down on Senior Day.
The Buckeyes were 8/9-point underdogs at Michigan and played pretty well (offensively) as it looked like Bollman let it all hang out (hitting the tight end and a screen pass to Hall). However, when it came down to crunch time, the offense couldn't do anything and looked like a junior varsity squad running the two minute drill. There were poor play calls, slow play calls, and a spike on a 3rd down after they had wasted about 20 seconds getting lined up. It was basically, "here's the play, make something happen Braxton."
The Buckeyes are currently waiting for their bowl bid, which is looking like the Gator Bowl on Jan. 2 versus Auburn or the Insight Bowl in Tempe on Dec. 30 against Texas. There are rumblings that OSU may invoke a self-sanctioned bowl ban in hopes to gain more mercy from the NCAA when they finally get to handing down their sanctions in mid-Decmeber. The only negative with not going to a bowl besides a bruised ego is that no bowl game would deny two weeks of additional practice. However, Meyer will not take over until after the New Year, so it isn't like they would put in his system if they went to a bowl anyway. From the presser though, Gene said that Meyer will take over after the bowl game, so it looks like Ohio State will accept a bowl bid, which will be given sometime next week after the conference championship games.
-What Ohio State gets-
A proven big time coach, the biggest name out there. A guy who is from Ohio and gets what it means to be the head coach at Ohio State. A rested maniac that can recruit any where in America who knows what it takes to get SEC talent and beat SEC talent. An offensive innovator that gets guys in space, something Ohio State desperately needed but refused to do. Under Meyer's watch, the Gators were 14-1 against Tennessee, Georgia and Florida State. They also get guy who has retired twice and has threatened to kick a reporters ass (who he later apologized to). His tenure at Florida was also marked by numerous arrests by his players.
I feel this was Ohio State's ultimate plan. Who can we count on to take the heaping mess of a season while we get our guy? Luke was the man and of course he was over his head. You don't get your first head coaching job ever by starting at Ohio State. He was thrown into the situation and did the best he could. He is a true Buckeye and I am glad he is back on the staff. How that plays out, time will tell. But it is the right move to offer him a "significant" position on the staff. The fact he took it says a lot about him and the relationship he wants to have with Meyer.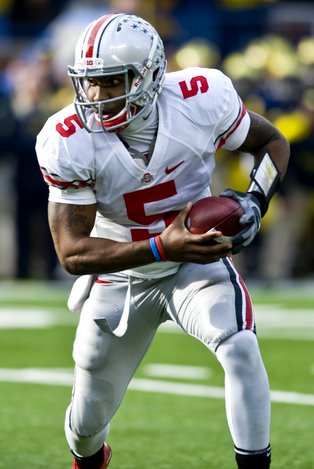 -What the future holds-
Meyer was giddy when asked about Braxton and the talent that Ohio State has coming back and future recruits makes the future pretty bright in Columbus. What every one was saying about Michigan when they hired Rich Rod (see: Cowherd), you can say that X5 about Meyer and Ohio State. What Braxton showed this season while running blind and out of survival is the tip of the iceberg.
When Miller gets the handle of a system designed to give him multiple running and passing options to 4- and 5-star guys, 34 points put up at Michigan this past weekend will look like a standard part of the script, not an aberration.
Meyer signed a 6 year contract for $24 million. If he stays for that long, you can expect more t-shirts, trophies and titles for Buckeye Nation.