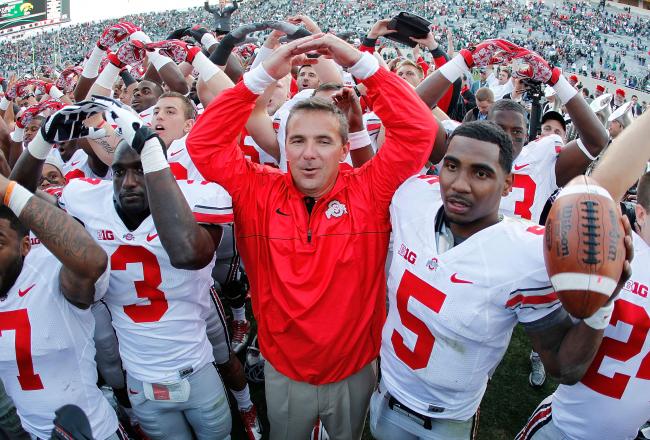 Ohio State is 7-0 and ranked number 7

th

.

Going into this season, I was expecting a few things:
-4 games that were 50/50.

At Michigan State, vs Nebraska, at Wisconsin and vs Michigan.

Averages say the Buckeyes would go 2-2 in those big games as they rebound from a 6-7 season with a whole new offense and coaching staff
-An unexpected "good" win and an unexpected "bad" loss, i.e. Wisconsin last year and Purdue the last few years, respectively
-Time for the offense to find Urban and vice-versa.
-The D-Line to be a strong point/dominate
-Linebackers make it or break it.
-Best Case: 9-3/10-2 (12-0 obviously), win over Michigan and/or Wisconsin
-Worst Case: 7-5, losses to top 4 and Penn State/Cal or random foe
This is what I've seen so far…The first month was pretty bad.

Down to Miami, lifeless at times against UCF, Cal and especially UAB.

After those games, I was expecting a loss to at least Michigan State and Nebraska, and 7-5 record.

I was shocked how well the defense played (except for one play) at Sparty and put 60+ on Nebraska.
This team, including the defensive woes, is way ahead of schedule and looks to be a favorite in every game here-on-out, or at least a pick 'em at Wisconsin.

Right now, 7-0 is the best case scenario but damn do questions lie on the defensive side of the ball.

The starting fullback for the past 3 years was the leading tackler against an Indiana team that put up 49 points (not really, they were punting down 18 in the 4

th

and had some good breaks along with the defense looking into the stands at the remaining 4 IU drunk girls), as the same mistakes are made over and over and over again.

I said last week that the Browns weren't the worst 0-5 team ever, and the Buckeyes aren't the best undefeated 7

th

ranked team ever, but with Purdue, Penn State and Illinois coming up, the Bucks should be entering their bye week 10-0 and have a real good look to go 12-0 and spit in the face of Bucky and Hoke.
Purdue showed promise early, but the last two games against Bucky and Hoke have looked more like a scene out of American Horror Story with the Boilers giving up 700+ yards rushing.

In 8 quarters.

Penn State has found themselves and BOB is staring down COY in the B1G.

Any game in Beaver Stadium could cause problems, but the talent disparity is just too great.

Illinois has given up and frankly, they should receive the same punishment as Penn State for their lack of effort and lack respect for the game of football.

Absolutely embarrassing.
The two final games are still iffy, but the Bucks should show up and even though this season doesn't matter, a win over those two programs back-to-back (thanks B1G) will set the tone for a championship (and recruiting) run for 2013 and my trip to Indy with the fellas next December.
The quarterback is everything he should be in Urban's offense, the they have only attempted 4 field goals while scoring 40 points a game.

Defense is terrible and should cost the Bucks an undefeated season, but overall, I'll take 11-1 or 10-2 (I won't if the two loses are to our real rivals). There might be some 10-2 seasons in the B1G that get over hyped and the next year they fall back to Earth (what's up Sun and Navy), but the Buckeyes are a year ahead and look to be in Indy for the next few years, at least. Oh and if Jordan Hall comes back for next year, the Buckeyes are going to look like the 1995 Huskers.