I ended up 4-3, 4-0 with Houston as my money game and lost the last three games. Stanford amazingly covered the 7.5 after a pick 6 put them down by 7 with 3 minutes left, but we had them at 8.5. Clemson went Clemson and Minnesota beat Iowa. I'm going to type that again. Minnesota beat Iowa. If you watched that game, stab yourself in the neck. Anyway, Brad went 1-6 and I am now a half game back. I'm not going to lie, I only saw some of the games as I was tailgating before and after the Buckeye win of the year vs. Bucky (I did catch the USC/Stanford overtimes). This week, I think LSU plays but I can't remember who off the top of my head. Week 10 picks to click:
4-3 yet again after a strong start.
Money Game:
9 touchdowns last week,
could get 9 in the first half this week
13Houston (-28) at UAB 7:00 CBS Sports Net
Anything under 50 and I'm taking Houston at this point. Last week took Houston -28 for money and will take them this week.
Win Houston 56 UAB 17. Houston was actually down but then scored about 4 times in 2 minutes in the 3rd quarter to put way the Blazers. I can honestly say I was the only television in Ohio switiching back and forth between this game and the other ones, fists a pumping.

This guy may have 20 catches for 8 touchdowns

USC (-21)
at Colorado 9:00 ESPN FRIDAY
USC had Stanford and then a Kiffin coached team makes brutal mistakes that cost them in the end, that's odd. Colorado is horrid and the Barkley-Woods combo has 4 touchdowns alone.
Win USC 42 Colobado 17. Came home from the Segert concert to catch the last 10 minutes. When in doubt, take the team with talent against the horrible one.

Nice job against Minnesota, coach

15Michgan (-3.5)
at Iowa 12:00 ESPN
Michigan looked pretty good against Purdue, a team they would have struggled against under the previous regime. Iowa lost to Minnesota. Let me type that again. Iowa lost to Minnesota. Under a touchdown seems like free money. However, this is the B1G and could be another classic 10-7, 17-14 battle. Classic meaning nap time.
Loss Iowa 24 Michigan 16. Iowa when patriotic and had the lead through the entire game. Michigan scored late to pull within 8 but couldn't find the endzone once more. A team is never as bad as their worst loss and never as good as their best win/upset. It's tough to win on the road and when they paint your locker room pink.

I don't think Purdue has this guy.
Purdue at
20Wisconsin (-26.5)
3:30 ABC/ESPN2
HAH LOL WTF FU Bucky. They rebound at home against Purdue. Look for 70.
Win Wisconsin 62 Purdon't 17. Bucky was pissed as they returned home and were throwing playaction into the endzone up 40+ in the fourth. They love to bully the bottom feeders.

1LSU (+4.5)
at 2Alabama 8:00 CBS GAMEDAY GAME OF THE CENTURY
Seems a bit much for the game of the century. Neutral field, Bama has a 1.5 point edge with the lesser quarterback? I would probably take the underdog no matter what. The countdown has started.
Win LSU 9 Alabama 6 OT. I am not sure why anyone was surprised. The defenses showed up and special teams ended up huge which they do in huge games (they also win championships, maine). Bama only falls to third in the BCS and have a real shot of a rematch via Oklahoma State losing to OU and Stanford getting bested by the Ducks. To be continued...

A lot of this yet again.
14Kansas State at
3Oklahoma State (-21.5)
8:00 ABC/ESPN2
Kansas State got taken out back by the Pokes big brother at home. They have to lick their wounds and travel into Stillwater against a white-hot Cowboy team that I have been riding all year. TAKE THEM AGAIN!
Loss Oklahoma State 52 Kansas State 45. While switching back and forth to this game, in no way were the Pokes going to cover. Kansas State has some fight and were threatening to tie on the last play. Great game, OSU survives, but 3+ touchdowns? Not close the entire game.
Washington State 59
UNLV 7
Boise State > Wazzou
5Boise State (-41)
at UNLV 10:30 CBS Sports Net
I know what Boise can do. I know what UNLV can't do. Boise is also coming off a Bye after a lackluster effort against Air Force.
41 is just too much for this guy.
Screw it, I'm taking the Broncos. They need to make statements against the MWC anyway.
Update:
UNLV has suspended 5 players
, including starting tailback Tim Cornett (
via Doctor Saturday
). This spread is looking pretty good.
Loss Boise State 48 UNLV 21. Boise was tied at 14 in the second and went to half with a 21-14 lead against, arguably, the worst team ever in D-1. Yuck.
Games I like but are off the board:
preview of the sidelines
19Arizona State (-9.5)
at UCLA 7:30 Versus
Sparky invades the Rose Bowl and is under 10. Me likey this one. I had to take one off after re-adding Boise so Sparky gets the boot.
UCLA 29 Arizona State 28. Game was as good as the sidelines. UCLA is over .500, 4-2 in conference and tied with USC for the lead in the Pac-12 South. Sparky is yet again Clemson of California.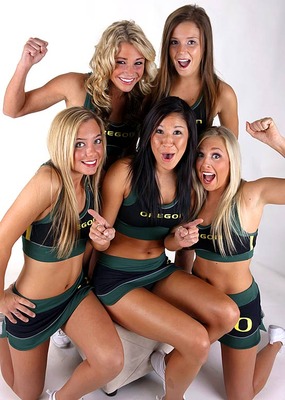 Go Ducks!
We hate UW? OK!
8Oregon (-16.5)
at Washington 10:30 Fox Sports Net
Just under 3 scores after a lackluster Oregon effort and Washington seemed a little overrated a few weeks ago cracking the Top 25. Shouldn't be close and shouldn't be close early.
Update: Just watched the highlights and did some reading on Oregon's victory against Wazzou. Thomas was benched in the 2nd half due to performance/injury. 16.5 is a little much for me against a could be-pesky Washington team still licking their wounds from the beating they took against the Cardinal two weeks ago. Oregon could roll but this could also be a 16-13 Cal from last year game. Uhggg. Here are
14 reasons
why the Huskies and Ducks hate each other.
Oregon 34 Washington 17. Covered by half a point, which Brad made his money game. SO CLOSE. Week 11? The Ducks travel to take on the Cardinal along with ESPN Gameday.