Tough week 8 all around (Bucky, Boomer Sooner) as I finished 3-4 and fell 3.5 games behind Brad who went 5-2. I did, however, when my money game so thank you Case Keenum and the fellas. Marshall was asking who the backup quarterback was and made it public they wanted to knock Mr. Keenum out. Case went 376 for 6 touchdowns en route to a 63-28 beatdown while he broke the NCAA record for total offense. Back in the baby pool, Thundering Herd.
Overall, I am a respectable 36-19-1 and the weeks are only going to get tougher. I will be happy with 3-4 or 4-3 and the money game. With the conference races taking shape, more and more games could go either way. Here's my week 9 picks to click:
Started 4-0 with the Money Game, ended 4-3. Oh well, the Buckeyes won and I went over .500. Life is good.
Money Game:
My arm is tired...
from countin' all this bread
Rice at
17Houston (-27.5)
8:00 CBS Sports Net (THURSDAY)
Houston keeps rolling and I thought I would never see the day I am betting on a 4 touchdown spread Thursday night C-USA game but here I am. It just got
sad
real.
W Houston 73 Rice 34. Keenum threw 9 touchdowns and were down 17-7 in a driving rain early. Every guy is open by 10 yards.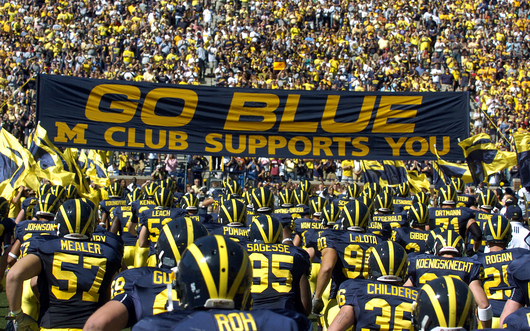 I support you this week
Purdue at
18Michigan (-13.5)
Noon ESPN
Purdue is coming off a "huge" upset win over the Fightin' Zooks and Michigan has blown out teams they should have blown out but have lost to under Richard (see: the San Diego State, Minnesota, and Northwestern games). Go Blue at home against a team that peaked last week? Under two touchdowns? Mich rolls.
W Michigan 36 Purdue 14. Purdue scored a touchdown with 15 seconds left, spread not in doubt at any time.
Guns up, good sir
Baylor at
3Oklahoma State (-14.5)
3:30 ESPN/
ESPN2
Oh lookie here, two of my favorite betting teams. Baylor has screwed me (twice) and the Pokes have been rolling. Gundy's squad got a little fight on the road against a fordable Mizzou squad and that games proved that all the Cowboys need is one stop beacuse they score every time they get the ball. Two touchdowns against a team that has been ranked for the whole year is a lot, and the O/U is 79.5 (holy shit) but Baylor cannot keep up and Stillwater keeps partying.
W Oklahoma State 59 Baylor 24. Pokes keep rolling and keep making me money. LIKE.

I'm taking this guy as the underdog
to cover and win outright in Happy Valley

Illinois (+5.5)
at 19Penn State 3:30
ABC
/ESPN2
The Fightin' Illini cannot be as bad as the last two weeks and Penn State has the same wow factor as Lindsay Lohan in rehab/jail/community service/jail/playboy/jail/rehab. Happy Valley is a nightmare to visitors, but I see the Zooks to rebound and to win outright against a below average State team.
W Penn State 10 Illinios 7. Of course the Illini were up 7-3 the entire game and miss a field goal to tie it by hitting the upright. The middle of the B1G is pretty much what this game was. Nice snow in October, too.
You have until 2017 to win
the Legends Division.
Hopefully Notre Dame will in the B1G by then.
Iowa (-16)
at Minnesota 3:30 BTN
One thing that has helped me this year is I tend to bet against the horrible teams. Those teams are as follows (off the top of my head): Arizona, Colorado, Kansas, Kentucky, Indiana, Iowa State, Minnesota, Ole Miss, and UCLA. An average B1G team, on the road, favored by just under 3 scores? America Needs Farmers and I need the Hawkeyes. Oh, and Minnesota just extended coach Jerry Kill's contract by 7 years (!). The Golden Gophers are currently 1-6 and winless in the B1G. They have been outscored 144-31 against Michigan, Purdue and Nebraska in the last 3 weeks. Their only win? 29-23 against the Red
skins
hawks of Miami University from Oxford, Ohio. I would say it is an ideal time for a contract extension in his first year while he battles continued medical issues.
L Minnesota 22 Iowa 21. Heard about this at the tailgate. Didn't see one play. No idea how or why Minnesota got their second win and first in the Big Ten. If they play 10 times, Iowa wins by 40 nine times. Sweet job Hawkeyes.
Your husband sucks as much
as you are good looking
4Stanford (-8.5)
at 20USC 8:00 ABC GAMEDAY
Kirk, Corso and Fowler are back in L.A. However, Reginold, Leinhart, LenDale, LoJack and Cassel are not walking through that door. Dillon Baxter, who coach Kiffin said could be "the next Reggie Bush" is
off the team to focus on academics
. He was looking as the prime suspect to take over the running game after senior Marc Tyler went TMZ to TMZ outside a night club and was suspended. But then a funny thing happened: Baxter didn't see the field against Arizona State nor Cal and didn't even make the trip to South Bend as Tyler regained his posistion atop the depth chart. 8 and a half is a big amount and some say Stanford hasn't been tested (way to show up Huskies). They have beaten 10 straight opponets by 25 or more points and will come close to that again against the Men of Troy in the coliseum.
Oh and here's a fun fact I heard on the Dan Patrick Show Thursday morning: In the last calander year, Stanford is 12-0-1 against the spread. If you had bet $100 on the first game and let it ride, you would be looking at a $234,000 profit. Does it end Saturday night? I think not.
LStanford 56 USC 48 3OT. The actual line was 7.5 at kickoff so everyone who took Stanford still covered, which could only happen if Stanford scored in the 3rd OT and USC turned it over. Which happened. However, for us, the Cardinal didn't cover. I saw the end after the Buckeyes win so I don't really care. Tough loss but whatever.

Is this the year?
Single Digits think so

6Clemson (-4)
at Georgia Tech 8:00 ABC/ESPN3.com
So Clemson, who is known for their undisiplined ways, are facing a triple option team who will kill you if you are undisiplined. Also, Clemson is on the road after putting up 59 previous week. Apparently white is black, up is down, and water is dry beacuse I am taking Clemson. They are ranked in the top 10, favored, on the road, a week after a big output, against a team who forces you to be focused and do your job every play. That being said, Dabo has too many
toys
single digits to play with and this '11 team doesn't seem to care about Clemson going Clemson. Until they meltdown. Hopefuly, this week they dodge the Clemson going Clemson bullet again.
L Georgia tech 31 Clemson 14. And there it is. They gave me one against Maryland and took one away here. Now I'm done. Thank you Clemson.
I like but won't take:
Looks about right
Washington State at
7Oregon (-37)
3:00 FSN
Oregon is at home. Oregon covers at home. Washington State is Washington State and their new branding technique is to wear all grey at home. That is all. I want to be tailgating with beverages and not checking my phone every 15 minutes to see if Oregon is up 40 yet, so this one is off the board.
Oregon 43 Washington State 28. Amazed Wazzou put up 4 scores and this is exactly why I didn't take a 37 point line. It was 15-10 at half and the Ducks put 21 up in the 3rd quarter to build a 36-20 lead. Both teams added a score in the 4th (the Cougars with a two poitn conversion). Oregon was in no way in chance of losing this game, but didn't cover and didn't cover by a lot. Nice no-call Dupe.
I have been giving America's picks the past few weeks and the average is right around .500 so screw that. I will not settle for mediocracy. Half of America is stupid and biased. Just listen to a sports talk radio show with callers. You'll see.