Last week, Ohio State lost it's number one running back/pivot play maker, senior Jordan Hall. He is done for at least 10 weeks after stepping on glass and cutting tendons in his foot.
At first thought, I saw 10 weeks = 2 1/2 months and he will be back after the first two games. He would miss the battle versus the Red
skins
hawks from Miami in Oxford, and Central Florida. In the Miami game, he would have gotten maybe 5 touches before being sat after the Bucks jumped out to a 49-0 lead in the 1st quarter. Against the Golden Knights, who everyone has in the top 15 even though their benched/quit/come back at WR quarterback last year will be catching passes and lining up as their Wild Knight QB. Needless to say I don't see any real threat in the heart of Buckeye nation.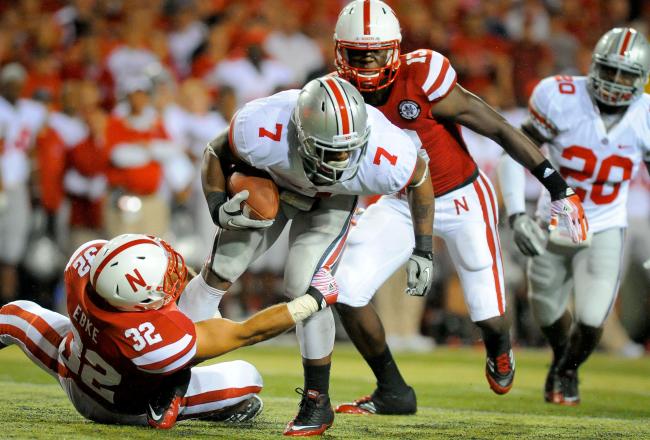 See you in 2013, hopefully
Alright, so he will miss two blowouts, be back for Cal and the school who took out UK in the round of 32 in 2007. In basketball. Great. As long as he is back and healthy for Sparty when the Buckeyes travel to East Lansing in the last Saturday of September, the offense will be alright.
Then I got to thinking more and more about what exactly he will miss and what he'll be ready for when he is back to football shape.
He is out with a foot injury, which means getting swole in his upper body, which is nice, but no football related activities for around 2 months, as Urb is implementing his offense (which HALL IS THE MAJOR FACTOR/FOCAL POINT OF). Then he comes back and in 2 weeks is supposed to be ready for the B1G grind, starting off going north to face a stingy and pissed off defense in Sparty. So he spends two weeks of his senior year getting ready, and then the Big Ten season starts for a season that doesn't matter.
If he is red shirted, he gets to learn the offense at his own pace, help the defense get better by going HAM on the scout team, and gets a year stronger and better for next year, a season that is bowl/B1G Championship/National Championship eligible. It also gives more touches/experience to the stable of Dunn, Hyde, Ball and Smith in a season that doesn't have any reward.
Yes, the Buckeyes would shelve their top play maker and focal point of the offense, but it will pay off next year, I promise. Unless he walks around on the set of Saw IV again with no Jordans. Keep your shoes on, young man.