*5-2 again this week, lost money due to Yontz going 6-1. Started .5 games back, now 1.5. Somebody stop the Yontz train. Now.
Rallied for a 5-2 week after the USF ass kicking at Heinz Field on Thursday night. Baylor lost straight up, of course, so the 5 wins is a bit misleading. I stand at 23-11-1 (3-2 in money games) overall.
This week, hmmm little iffy (have said that since week 3). Here is what I got. No underdogs this week. And by no I mean none. At all. Risky.

Exept when Boise visits the Valley

America, along with my 'stache
are taking the Broncos





*W 57-7. One of the touchdowns was decribed as if "Boise State was running against air during walk through."
Money Game:
5Boise State (-21)
at Fresno State 9:00 ESPN Friday
93% of America is taking Boise. Sounds good to me. From
VegasInsider
.com
Debut of the Puddles jerseys
Thursday night at the Autzen Zoo
*W 43-15 Ducks were actually down 15-14 at halftime. No worries. Other than LMJ's elbow.
Cal at
9Oregon (-24.5)
9:00 ESPN Thursday
Huge spread. Should be covered by halftime. Plus, Oregon has
Puddles
and the only thing that makes me nervous is when Oregon will be up by a ton in the 2nd half, will they hold on to win by more than 24? I hate when the game is already over but a late FG makes the losing team cover. I will also be asleep by the 4th quarter and things could get weird. Oregon puts up 50+ on the board.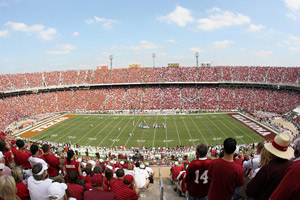 Endangered Species: Thanks Big XII
*W 55-17. Two freshmen quarterbacks < One freshmen quarterback, had no chance. Maybe in a few years, young 'horns.
11Texas vs.
3Oklahoma (-9.5)
at Dallas 12:00 ABC GAMEDAY
The Red River
Shootout
Rivalry at the Texas State Fair. One of the great rivalries that will be extinct unless the Big XII survives or both teams go to the same conference. Half crimson and cream, half burnt orange and white. I've taken Texas the last two weeks, but Oklahoma beat Florida State by 10 at Doak Campbell. At night. Texas has been rolling, but they have a two quarterback system and had to come back against BYU. They will not and cannot stop OU's offensive attack. Boomer Sooner runs away after Texas hangs in for a little bit.
Jackets here all day. Hide in your shells, Terps.
The Helluva Engineers are a comin'
* L 21-16 Once again Maryland gets down early, 21-3, climbs back. Tough one.
Maryland at
13Georiga Tech (-14)
12:00 ESPNU
Uh so Georgia Tech averages 52 points a game and Maryland is horrible. Even if Tech is flat, Maryland will not be able to stop to the option and the Ramblin Wreck will be playing downhill for 60 minutes. This game is a late addition after not liking nor caring about Noles-Deacons. Also the FSU -13 line has moved to -10. I'm off that shhhhhhhh. Oh and here is
Tech's fight song
.
Scene right out of Tecmo Bowl
*W 47-11 Florida has lost back to back games by 28+ for the first time in a few decades. LSU vs. Bama plz.
17Florida at
1LSU (-13.5)
3:30 CBS
Was 11 on Monday. No Brantley for the Gators and LSU is good. Really good. I'd like it more if it was under 10 but I can see a 34-14, 40-20 game very easily.

Nah, I'm good
*W 49-26 Didn't see one play of this game. Didn't need to. Like.
Iowa State at
25Baylor (-16)
7:00 FSN
Taking Baylor again after their loss at K-State at Bill Snyder Family Stadium. Not the money game this week, but RG3 will roll the pitiful Cyclones in the friendly confines of the Bears. And hey, they're still ranked!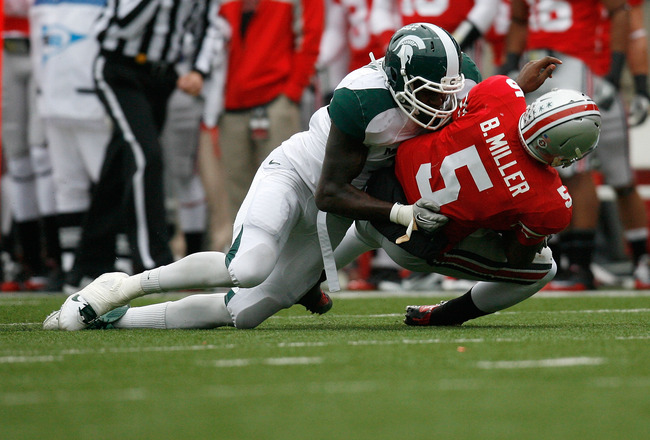 Expect a lot of this in Lincoln
*L 34-27 No comment.
Ohio State at
14Nebraska (-11)
8:00 ABC
GAMEDAY
No comment.
Picks I am looking at but are not taking:
Not the ideal home field advantage
*35-30. Unranked along with Miami and the Gators. Glad I didn't touch this one.

23Florida State (-13)
at Wake Forest 12:30 ESPN3.com
Wake is a surprising 3-1, with 3 straight wins after their opening day OT loss in the Carrier Dome. Florida State is reeling after two straight losses (Oklahoma, Clemson) and a bye week. The 'Noles were supposed to be back and now they are 23rd and 2-2. They rebound and smack and Demon Deacons. Hopefully they aren't flat for a 12:30 game.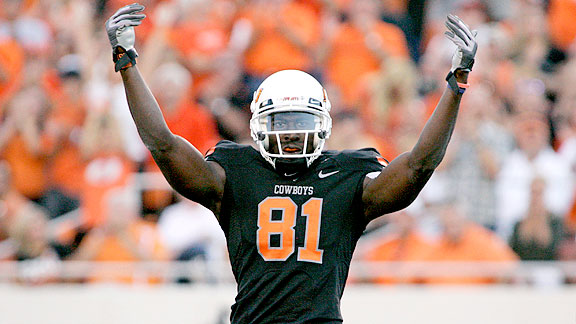 Good luck with me, KU
*70-28 Pokes put up 70, have Texas up next. Guess who I'm looking at this week?? POKES
Kansas at
6Oklahoma State (-32.5)
3:30 ???
POKES! Why the hell not? Love me some Pokies but I don't wanna sweat on a 30+ game
Cardinal roll by this much
*48-7 Yup, big spreads covered all over the place this week.
Colorado at 7Stanford (-29.5) 7:30 Versus
Stanford all over the Buffs, standard. What surprised me the most when Colorado came into the 'shoe is how bad they were. Competent quarterback, running back and receiver and they are absolutely horrible. Again, I like the spread but I don't want to be pissed if Stanford gives up a late score with the 3rd string in and only win by 4 touchdowns. Not how I want to enjoy betting.