Week 4 summarized:
Dude lives in a mordern-day west coast The Progam
The Pac-12 is stupid
*
Note: These lines are from Tuesday Morning, Caesars-Hilton Sportsbook*
I feel like my luck may be running out after 3 weeks of 5 wins. Each week I like less and less of the games but here we go:
Even I like Robert Griffin the Third
against the Wildcats

Can't Stop. Won't Stop.
More touchdowns than incompletions.
Thank you sir. May I have another?
 

*Loss. The Third had over 300 yards and 5 touchdowns (mainly to Wright, 9 for 201 and 3 scores), but one costly pick in the redzone to which the Wildcats converted into the game-winning FG inside 3 minutes left.

Yeah, about that.
Kansas State 36
Baylor 35. Wonderful
Money Game:
15Baylor (-3.5)
at Kansas State 3:30 ABC/ESPN/Gameplan
Baylor has RG3 and Kansas State does not. The purple and silver, however, are coming off an "upset" after a tremendous
goalline stand
in South Beach. Then 3:30 comes, Baylor gets the ball and the Third does what the Third does. BU covers easily. I am thinking 7 or beyond. Feels like this spread should be around 7.5 to 9.5. Vegas better not know something I don't and it will be interesting to see how much the line moves (if at all) by Saturday morning (I would check around 2:45 but I'll be a few cold ones deep and there is no wifi at the tailgate, wifi-fail).
I ask you, does this cat look like he's playin?



Aw look, the Big East has a night game
*Loss. Bulls got trucked 44-17. Good Pitt showed up. Not the way you want to start the week.

16South Florida (-2.5)
at Pittsburgh Thursday 8:00 ESPN #firecraigjames
Skip Holtz went into South Bend and made Coach Kelly turn purple. Pitt comes off a
ugly
tough loss against said Golden Domers after a
4th quarter meltdown
tough loss at Iowa. Bulls by a field goal? Yes sir.
Do you trust this guy?
*Win. The Wildcats lost by 3, 38-35 after they gave up a late TD. NW is a pretty safe cover bet, the Army game notwithstanding.
Northwestern (+7.5) at 24Illinois 12:00 ESPN2
Dan Persa is back and the Illini are frauds. "Closer than the experts think."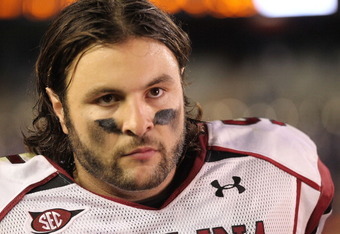 Liquor? Barely even know 'er!
*Auburn 16, South Carolina 13. Exactly what I was expecting when I first saw this line. A tough SEC battle that would come down to the final 4 minutes. Pretty glad I didn't end up taking South Carolina.
Auburn (+10)
at 10South Carolina 3:30 CBS
Garcia still starting at QB? Yah I'll take Auburn to bow their neck.
*Not touching this one. Auburn's defense is miserable and with Lattimore, Cocky may put 50 on these guys
**Now I think I may take the Gamecocks -10. If Carolina put 45 on UGA, see above but damn 10 is a big number for an SEC game ahhhhhhh idk yet
***With the deadline approaching, I'm fairly confident that the Gamecocks are going to win by 20 but I'm still not taking them. Therefore I can make statements like that with no repercussions. I won't even get to watch it anyway. GO BUCKEYES!
 

Not on Saturday Ladies.
No idea about the spread
but ya'll will not leave Blacksburg with a W

*Clemson 23. Virginia Tech 3. Clemson as a team is now a single digit. 3rd straight win vs a ranked opponet. OK Fightin' Dabo Sweeneys. Didn't take this game, well played Dupe.
13Clemson at
11Virginia Tech (-7)
6:00 ESPN2
Against Clemson for the third straight week, and I guess Vegas has caught on. Red hot Tigers off two good/great wins and they are a touchdown 'dog on the road to a VT squad who has been playing like meh...almost too good not to take Clemson, but I gotta take VT
*No idea what is going to happen. Taking this one off the board. If VT blows Clemson out and it's 28-3 at half, I'm going to punch a baby (not my own)*



 
Looks to be a happy day vs ISU
*Win. The Texas revenge tour rolls on, were up 34-0 at halftime. Up next, OU at the Texas State Fair. They look to be 9-10 point 'dogs. I like the Burnt Orange.
17Texas (-9.5)
at Iowa State 7:00 FX
 
Dre will come to play.
Two One all day.
*Win. 38-10. Dre got beat on the first play of the game. Didn't matter. Bama-LSU Nov. 5th.
3Alabama (-3.5)
at 12Florida 8:00 CBS
Gators showin promise but have you seen Alabama lately? No way Sabes lets his guys give up more than 300 total yards. Weis has a McMuffin and the Tide cover but I can see the Gators down 4 to 6 threatening in the final minutes. Brantley picks on 'Dre and you know what happens next: I call the
Solid Verbal Voice Mail
and we're all set for LSU at Bama on Nov 5th in the final four. See what I did there? I like to use November football between top 5 teams as a self-made playoff.

Looking for first "Big" win that isn't an upset
*Win. 20-14 with a minute before halftime. Walked to Out-R-Inn. Looked up. 41-14. They convert turnovers into touchdowns as well as Ohio State goes backward. Not too much to derail Bucky. Night game at the 'Shoe in 3 weeks? 17 point favorites at least.
8Nebraska at
7Wisconsin (-9)
8:00 ABC GAMEDAY
Game of the Year in the Big 10 and the spread is just about double digits. That's how good Wisky's offense has looked and how mediocre Nebraska has been playing. Could be a battle. However, Russell Wilson vs. Taylor Martinez? I'm taking the Badgers. Night game in Madison?
I've seen this before
.


Yeah, not so much. Citgo.
*Win. 45-19. Late worthless touchdown pass gets Stanford to cover as I slept. Love the lawness of the Pac-12. What, is Neuhesial going to get Stanford back? From his couch? I guess you could say I Luck-ed out on this one.
UCLA at
6Stanford (-21)
10:30 FSN
Gotta throw in the late game/UCLA defense. Praying I don't fall asleep by half but hopefully it's 20ish at half. Southern Cal is down and the other LA team is a three touchdown underdog to Stanford? Seems like the spread should be around 24.