Finished 5-2 for the 4th straight week, lost because Maryland came back, yet again in the second half against Georgia Tech. Also lost when Ohio State blew a 27-6 lead and gave up 4 unanswered touchdowns to lose 34-27.
I am still down 1.5 games due to a 6-1 run (30-12, 71.4% overall) by
Cosmic Warrior
Brian Yontz
(thanks for having us over) and
Brad
going 5-2. Aceholes. Also included in the 5-2 club were
Pacetta
and
Kirby
.
I bet on Ohio State once in 2004 against Marshall, when the Buckeyes needed a 55-yard field goal from Nugent to beat the 3-touchdown underdog Thundering Herd. The other time? Last week. Bucks lose. Nebraska doesn't cover. Lose, lose, lose, lose, lose. Never again. Never. Again.
The season is half over. My trends continue as the same teams keep showing up. Here is what I am looking at while I
head to
McGee's
sit in Columbus for the Illibuck showdown.
*Lines are from Tuesday at noon from Cesar's/Hilton
should be full again by the 3rd quarter
Bama all day, maine
Money Game
2Alabama (-25.5)
at Ole Miss 6:00 ESPN2
Houston Nutt is on the way out. The Grove: Nice. The Ole Miss football: Not so nice. Tide rolls. 98% of America is takin Bama.
UPDATE 10/14:
4 Rebels suspended and the line now pushes 30. STRAIGHT CA$H HOMEY
Win. Alabama 52 Ole Miss 7. Never really in doubt but on the road against a horrible team, Bama sometimes sleep walks (see 30-0 and Vandy). Where these are not bad win, you never know. Trent got rolling and Chris Leak 2.0 had no answer nor threatablility (made up word) to score on the Crimson Tide. November 5th please.
40. At half.
Indiana at
4Wisconsin (-40)
Noon ESPN2
Apparently Vegas is pissed. 40? Ah screw it. On Wisconsin.
Win. Wisconsin 59 Indiana 7. From Adam Hale: Hey Indiana, we'll give you 40. Then beat you by 20.
May get the W
but it will be under 7
20Baylor (+8.5)
at Texas A&M Noon FX
I love Robert and I don't know why everyone is on TAMU. Who cares if they get up 17 in the 3rd? If anyone can orchestrate another 2nd half comeback against the Aggies, it's RGIII. More than a touchdown underdog? Yessir.
Loss. Texas A&M 55 Baylor 28. Aggies got to a big lead late in the 3rd and keep scoring. RG3 set a school record for passing yards (430) but Tannehill threw for 415 and 6 tds (!) and that ends me taking Baylor.

The Honey Badger will do this and
do this a lot in Knoxville

1LSU (-16)
at Tennessee 3:30 CBS
I would be weary coming off a big game, but LSU's only not "big" game was versus Kentucky. They do not care. Bayou Bengals roll.
Win. LSU 38 Tennessee 7. Tigers started slow but then keep coming, like the entire season. November 5th.
Can't Stop Won't Stop
6Oklahoma State (-7.5)
at 22Texas 3:30 ESPN (Ohio State at 16Illinois on ABC)
Pokes put 70 on KU and Texas is coming off a beat down from their hated rivals. Does Okie State sleep walk and does Texas come out inspired? Who cares? Gundy likes points and even if they start slow, Texas cannot keep up. Pokes by 14-21.
Win Oklahoma State 38 Texas 26. Two kickoff returns back to back, a couple long runs and long passes. Texas could have easily kept it within a touchdown but the Pokes have too much firepower. Right now they are 7.5 favorites at Mizzou. Me likey.
Looks to rebound against the Hoos
12Georiga Tech (-7.5)
at Virginia 3:30 ESPNU
Off a tough almost-choke-job against Maryland, GT hits the road to Charlottesville to Mr. Thomas' university. America loves the Jackets (95%) and just over a touchdown against UVA? Sign me up. And I'm not the only one. Here is Mr. Cowherd's take on the Cavaliers from 2007:
Loss. Virginia 24 Georgia Tech 21. Forgot I took this game. Tech was down 14-0 and tied it up but the Hoos didn't give up in their Orange on Blue ensemble and beat the Jackets outright at home. GT has cost me the last two weeks. Goodbye Wramblin' Wreck.
Taj and Dabo getting it done so far
8Clemson (-8)
at Maryland 7:00 ESPNU
Clemson hasn't gone Clemson yet and Maryland should lose by 14-17. Last week Clemson held Boston College down, and that would have been the most Clemson thing ever if they lost to the hapless Eagles. Maryland punked The U, got skunked by the powerhouse Temple, hung with WVU after almost getting run off the field and hung with the Ramblin' Wreck, so they can be pesky, especially after halftime. If this bites me I'm going to really pissed.
Win. Clemson 56 Maryland 45. Holy cow. Probably the betting game of the year. Clemson went Clemson and was down 28-10 and 34-17 but I kept looking at the clock and it was barely into the 2nd half. The Tigers had just given up a score to go down 45-42 with 7:35 left. No way they can score twice and hold a Maryland team that has been out of their mind. Sammy Watkins takes the ensuing kickoff 89 for a touchdown. Then the D holds and they get the ball back. With less than 4 minutes left, Clemson needed a late score to cover with a 49-45 lead. Of course they get a 44 yard touchdown run. They hold Maryland and cover. Had it in the bag the whole time.
Games I like but don't have the stones:
Southern Cal (-3.5) at California 9:00 ESPN Thursday
Almost a slam dunk, right? I want to take the Men of Troy, but I dislike Lane Kiffin, his coaching style, his team's consistent lack of consistency, the plethora of personal fouls, and the loss of schollies. Also this game takes me back to 2003 when USC came into Berkley ranked no. 3 and left with their only loss that season.
USC 30 Cal 9 (21).

University of Spoiled Children Sexual Ballers wins at Berkley AT&T Ballpark 30-9. Turned it off at half when the Trojans were up 20-nil.
Lookin good?

11Michigan (+2.5)
at Michigan State Noon ESPN
So Michigan beats Notre Dame after down 21 in the 4th. At Northwestern, they don't lose a game they would have and did lose in the past 3 years. LET'S RANK THEM 11TH NOW! THEY ARE BACK!!!!! No losses, one nice win and their rank skyrockets (see: the Fightin' Illini). I don't know about that, but 3 straight losses to Sparty and an underdog? I take Go Blue with the
outright win
upset.
Michigan State 28 Michigan 14 (14). Lots of chippy play, some dirty hits, some bad offense. Michigan got the ball down 7 and Nard Dog promptly throws a pick 6. Sparty gets the 4th win in a row over "Big Brother" and also hands Go Blue their first lost of the season for the 4th straight year.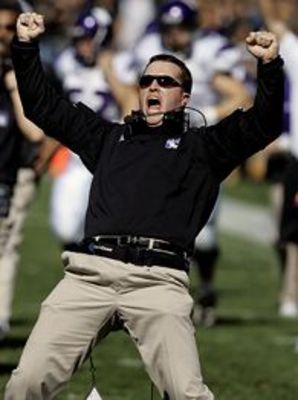 His boys will be ready for Kinnick

Northwestern (+6)
at Iowa 7:00 BTN
I love taking Northwestern. I think they are frisky and Iowa looked like dog poo against Penn State last week. Should be close, and Iowa gets the nod, but unless Iowa converts 5 turnovers into touchdowns, the Hawkeyes don't keep up a touchdown lead.
Iowa 34 Northwestern 24 (10). Two middle of the road teams in the B1G duke it out. Saw maybe 10 plays and Ebbert (from Hilliard Darby who's father is my AD at Hilliard Bradley) had 4 catches. Stud. Cap City pride.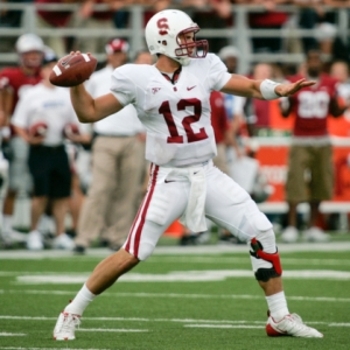 Superstar
7Stanford (-21.5)
at Washington State 7:30 Versus
Stanford has been a great covering team, and they keep their starters in and run their offense for all 60. Therefore, if they are up 17 and get the ball with 4 minutes left, they are looking to score. Wazzou is better than the "Crapple,
2 Teams 1 Cup era
", but a 3 touchdown dog at home, the public is still going to take the Cardinal.
Stanford 44 Washington State 14 (30). Wazzou when grey on grey on grey and kept it close, down 10-7 at half. Second half was all Stanford with touchdowns through the air from 10, 26, 8 and 28 yards. Wazzou scored to make it 38-14 with :14 left and Stanford returned the kickoff to end the game.

The good ol days of KU football
3Oklahoma (-35.5)
at Kansas 9:15 ESPN2
Kansas gave up 70 to Oklahoma State and Oklahoma put up 55 on Texas. 5+ touchdowns in conference? There are some really bad mid-level teams.
Oklahoma 47 Kansas 17 (30). Standard sleep walk game, OU only led by 10 at half. This game was on the same time as Ore-ASU so I would only check during 1st half timeouts. I'm glad I didn't bet on this game because there was no way OU was going to lose, but to lose a bet on a team that only won by 30 is not the reason I like to bet. Props to KU for showing up and having a little self-respect.

 
There are no losers
Thank you Pac-12

18Arizona State at
9Oregon (-16)
10:15 ESPN GAMEDAY
First, a top 20 match up and the spread is over two touchdowns. Second, a gameday venue that starts at 6am local time and kicksoff after 10 eastern. Odd. Once again, Vegas is pissed that the top 10 teams are covering so the numbers are a bit inflated this week. It will not stop me, even if the nation's leading rusher is out with a elbow boo boo. I probably will not see this game and I am not fired up about it, but I do think Oregon will cover and run away from Sparky.
Oregon 41 Arizona State 27 (14). Pretty good back and forth, and it either looked like Oregon was going to get up real quick at some point or Sparky was going to hang in there and the last team with the ball has a chance. Thomas went down for Oregon and create-a-white-guy came in with two young running backs and ran the show. Very impressive. Oregon didn't cover but took control in the 2nd half and are on their way to meet Stanford in a few weeks. They need their guys to get healthy.
Other games America likes that I have no idea nor care about:
Looks like America went 3-1. Damn Boise. Damn Colorado.
Florida State (-13 96%)
at Duke 3:00 ESPN3.com
FSU 41 Duke 17
Colorado at
Washington (-14.5 97%)
3:30
UW 52 CU 24
South Florida (-7.5 97%)
at UConn 3:30 ESPN3.com
UConn 16 USF 10
Colorado State at
5Boise State (-32.5 95%)
6:00
Boise 63 CSU 13