The Buffaloes, one of the newest members of the Pac-12, stroll into the 'shoe at 3:30 with Craig James giving his insight across the World Wide Leader. Luckily for me, I will be in the South Stands with Tiffany and my father.
You may have not heard about Colorado for a few years, and probably the last time you heard anything about Colorado football was because of this:
They happen to be my dynasty team in NCAA Football '12 so I know the star players' numbers
As for the actual 2011 squad, the opened at Hawaii and lost 34-17. The Buffs gave up 121 yards and 3 scores (57, 14, 1) on the ground to the run n gun Hawaii quarterback Moniz. His first two runs led the Warriors to a 17-0 lead at half.
The loss on the island extended the Buff's road woes, who have lost their last 18 games on the road, 19 if you include the 2007 Independence Bowl. Colorado's last road win came at Texas Tech on Oct. 27, 2007. They play Colorado State every year at a neutral site,
Invesco
Sports Authority Field at Mile High in Denver.
Their next game was a loss in OT to Cal in a previously scheduled non-conference game, so that game did not count as a Pac-12 game.
Tyler Hansen set a school single game passing record with 474 yards through the air. Wideout Paul Richardson (#6) hauled in 11 catches for 284, also a school record en route to out gaining Cal 572-380. The Buffs gave the game away in overtime after making a field goal, when Cal was faced at a 1st and 30 from the 5. The Golden Bears completed a pass to the 5 and the next play, the Bears tight end Allen caught a TD pass from quarterback Maynard for the W.
They got their first victory of the year in the Rocky Mountain Showdown against their arch rival CSU, 28-14. Hansen ran for two scores and threw for two more but was held under 220 passing yards. Richardson finished with only had 4 catches for 27 yards.
Fashion note: They also made throwbacks from the 90s their normal unis, which look tight.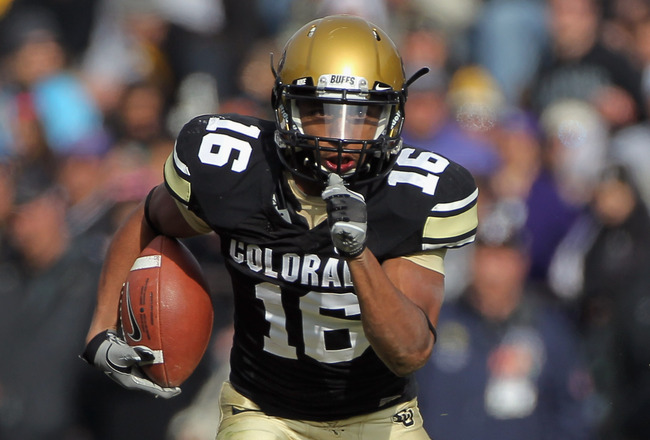 new

old

As fot the last time Colorado mattered? Here's Gameday from 1997 when the Buffs and the Wolverines hooked up. Kirk lookin a little puffy. Corso solid.
Oh and speaking of Colorado-Michigan, you may have seen this play
Keith Jackson. The Best Ever.